Air Asia, the low-cost airline pioneer, is the largest airline in Malaysia. Air Asia serves flights to over 165 destinations in around 25 countries. Kuala Lumpur International Airport is the main base for Air Asia. According to Skytrax, Air Asia has been regarded as the world's best low-cost carrier for 11 years in a row. The airline ensures all top quality services that can be of benefit
Read More: AirAsia Baggage Allowance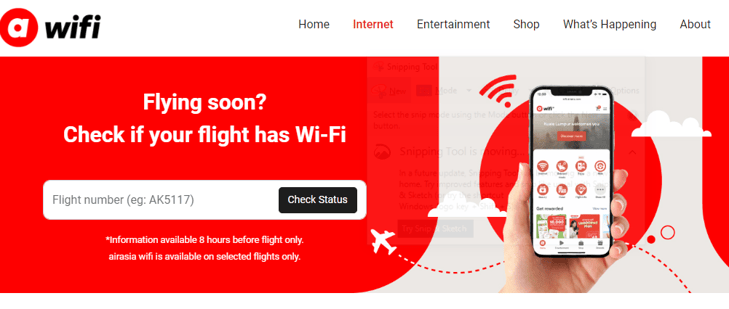 A Glance at Air Asia:
Name 
Air Asia
Parent Company
Tune Group
Headquarters
Kuala Lumpur International Airport, Selangor, Malaysia
IATA Code
AK
ICAO Code
AXM
Callsign
RED CAP
Hub
Kuala Lumpur International Airport
Inflight Wi-Fi
Yes (Paid)
Inflight WiFI provider
ROKKI
Passenger Destinations
165
Operating Aircraft
255
Social Media
Facebook
Twitter 
Instagram 
Website
www.airasia.com
Air Asia provides inflight WiFi service. They have packages with the different data limits to give their customers a peace of mind.
Air Asia provides high-speed inflight internet service for passengers in their 6 fleets powered by Rokki. Depending on your needs, Air Asia has 4 different plans with various features to meet your needs. Passengers can purchase 10 MB of social media messaging per flight, which ranges from 9 MYR to 18 MYR depending on which package you choose and your average data use. For uploading on social media, Air Asia offers a 20 MB Light or a 50 MB Pro package.
Packages
Price
Data Limit 
Facilities
Mini
9 MYR($2.04)
10 MB
Whatsapp
Facebook Messenger
iMessage
5 minutes of web browsing
over 250 only text-based emails
LIght
18 MYR($4.09)
20MB
Upload on social media (Up to 10 photos)
1 hour of social media (exclude video)
10 minutes of web browsing
Pro
38 MYR($8.63)
50 MB
Upload on social media (Upto 20 pics)
Emails with attachments (Maximum of 10)
20 minutes of video call2 hours of social media (exclude video)
Unlimited
48 MYR($10.09)
100 MB
20 minutes of video call
Web browsing (Upto 50 MB)
1 hour of social media (Upto 100 MB)
20 minutes of video streaming( Upto 200MB)
Best for light streaming
Streaming
58 MYR($13.18)
200 MB
Best for streaming
Paying for in-flight internet access is a great option. When booking your service at Air Asia, remember to select how to connect.
Passengers with Air Asia often have the option to use their inflight wifi while they fly. The information is available in your booking confirmation email. Just click here to find out more on how to access the internet.
Turn on WiFi on your device
Connect to the network 'FREE airasia wifi'
Visit the website airasia.com using the default browser. This will bring up a page that allows you to book your tickets, find flight schedules and more.
Choose your preferred internet package. Follow the prompts to continue with your payment.
When you are ready to use your internet, shoppers can make a purchase on our site by confirming with one of our representatives
Enjoy Surfing!
Air Asia Inflight Entertainment:
Passengers can enjoy travel blogs, food shows, movies and magazines on the Air Asia flight. Photos and videos saved on My Xcite Tab will work offline once on the device, so it's easy to get your entertainment. Xcite trailers are Japanese cartoon-themed children's shows in English which play during flights and provide laughter for children of all ages.
Frequently Asked Questions:
Does Air Asia have inflight wifi?
Air Asia provides high-speed paid internet service to travelers on planes with a select group of passengers.
If you are traveling on a USA-bound Air Asia flight, can you access the internet on that trip?
Within the US, Air Asia serves flights only in Honolulu (HNL). The wifi availability varies depending on the destination and aircraft type. You can check before you board your flight by searching for it online with your flight number.(to make a sentence without spatial prepositions the article inside requires a singular noun)